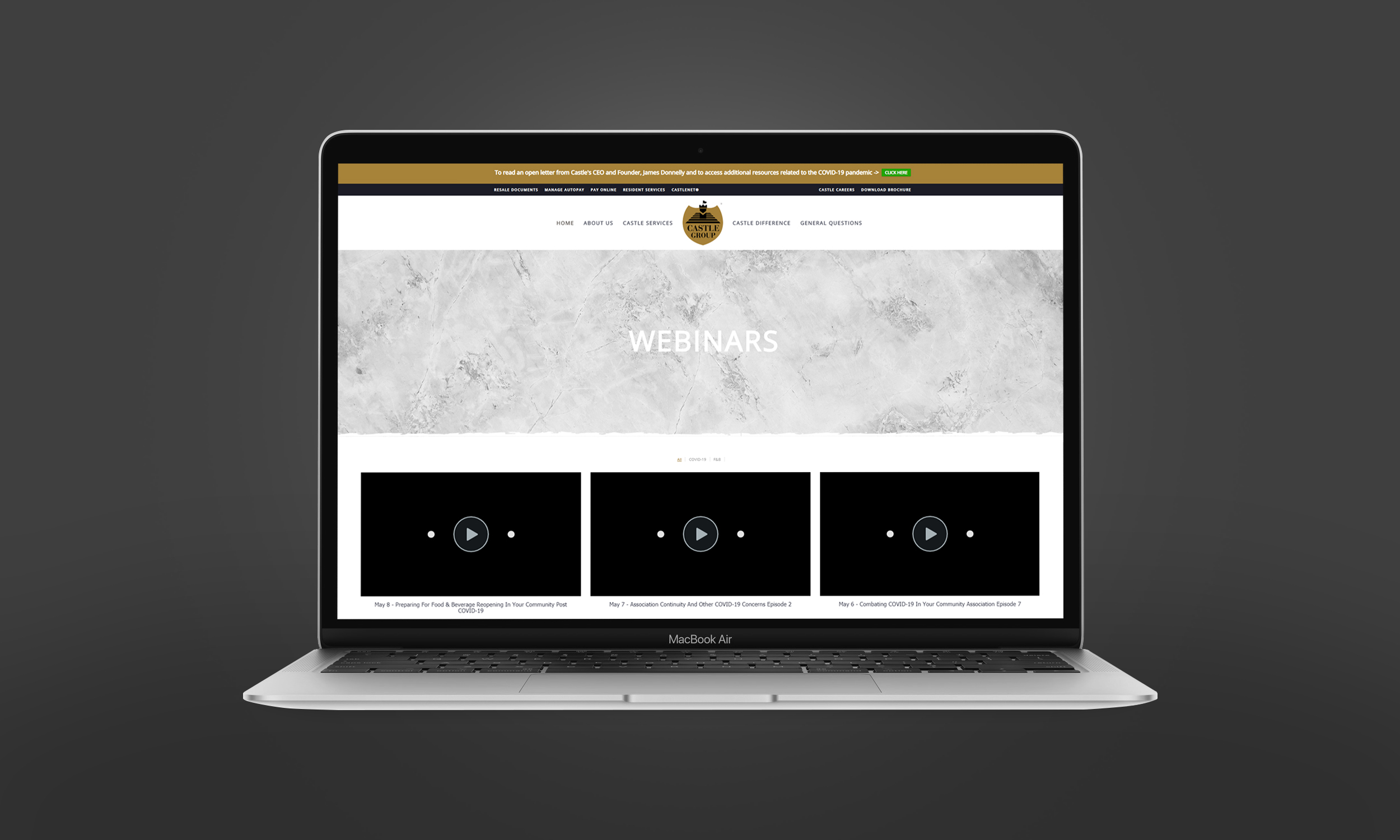 Castle Group Launches Extremely Successful COVID-19 Informational Webinar Series for Board Members
Plantation, FL – July 13, 2020 – Castle Group, the premier choice for community management, is proud to announce that its executive team has launched a series of informational webinars to help guide Board Members through this unprecedented time of running an Association during the COVID-19 crisis.
Combating COVID-19 In Your Community Association hosted by James Donnelly, Founder and CEO of Castle Group together with Donna DiMaggio Berger of Becker is now on its 12th episode.  To date, the pair have successfully hosted  episodes on a variety of topics and have briefed audiences on the latest State, County and local ordinances.  "While the regulations in place by officials are the floor that you should be following, Associations can always opt to be more restrictive," said Mr. Donnelly.  "We live in a litigious world and no one has ever managed a community through a pandemic like this before.  It is important that Boards follow the Business Judgement Rule and always remember to consult with their Association Attorney and Community Association Management professional when making a decision they are unsure of," Mrs. Berger continued.
In addition to the series above Castle's President, Craig Vaughan and numerous members of Castle's Executive team have contributed their talents to broadcast additional webinars on a multitude of topics related to COVID-19 such as; Insurance and Risk, Collections and Special Assessments, Risk and Mitigation, Association Continuity, Elections and Communications During A Crisis, Covenant Enforcement and Preparing to Reopen Your Amenities.
"I am so proud of how our team was able to quickly organize and broadcast so many informative webinars for our Board Members as well as the community at large.  I was surprised to receive so many questions on a weekly basis ahead of our series from hundreds of viewers.  What we were trying to convey was a general common-sense framework of understanding how to navigate the current situation which could literally be applied to any community regardless of where you live and it appears we have been wildly successful," said James Donnelly, Founder, and CEO of Castle Group.
For more useful suggestions please visit our website  https://www.castlegroup.com/covid-19-message/ to view the webinar series Combating COVID-19 In Your Community Association hosted by our Founder & CEO Mr. James Donnelly and Mrs. Donna Dimaggio Berger of Becker & Poliakoff Law Firm. You may also visit the CDC website at https://www.cdc.gov/coronavirus/2019-ncov/community/reopen-guidance.html.
---